Kansas Car Shipping Company
Auto Transport to & from any location in Kansas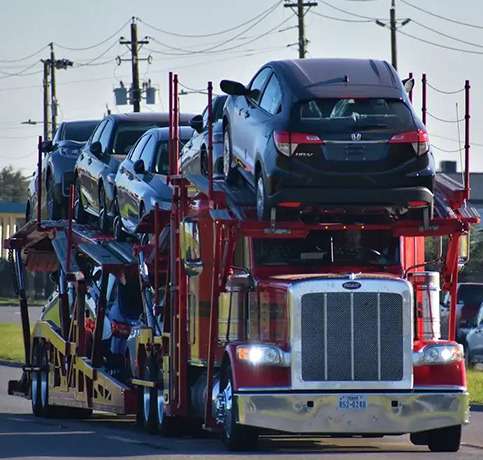 Car shipping to and from Kansas
Whether you are relocating to a new city or buying a car out of state, it is important to find a reliable carrier that will transport your vehicle efficiently and safely. Express Auto Logistics is passionate about providing quality car shipping in Kansas. We connect our private and retail customers with the best quality car carriers available, given each individuals budget, time frame and class of service — on open, enclosed or expedited auto transport. Our vision is a stress – free vehicle transport experience for every customer. 
Kansas auto transport services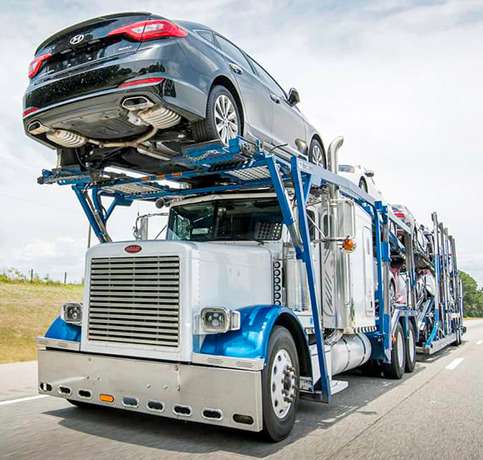 Open Auto Transport
Open auto transport is the most economical and fastest way to ship your car, truck or SUV. Using open transport your vehicle will be delivered door-to-door efficiently. It is exceedingly rare for even minor cosmetic damage to occur.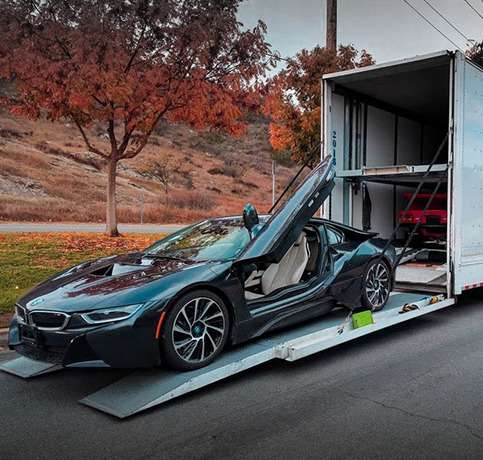 Enclosed Carrier
We provide door-to-door enclosed and covered car transport across America. Enclosed car transport is a great option for luxury, classic, or brand new vehicles. Ensuring full protection and coverage during transport.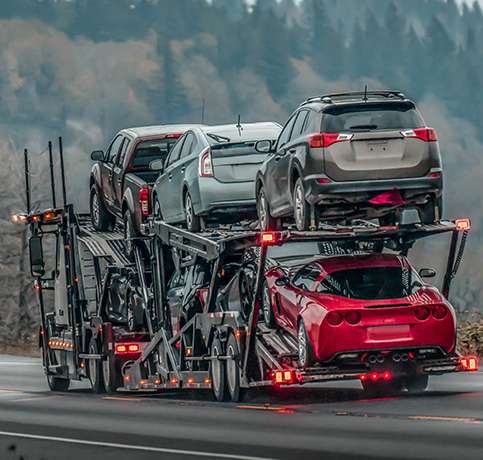 Expedited Transport
Expedited car transport service will deliver your vehicle door-to-door as quickly as possible with pickup availability as soon as the same day. Open carriers are often used as they are the most readily available.
Kansas auto transport process
Get a Quote &
Book Your Order
Getting a quote to ship your car to or from Kansas is easy. Simply fill out our quote form to receive an estimate. Once you have your quote, you can book directly online or call us to discus your specific shipping needs. No payment is required upfront to schedule pickup. 
Pickup & delivery address
Year, make, model of your car
Vehicle condition
Your preferred pickup date
Open or Enclosed Transport
Contact Information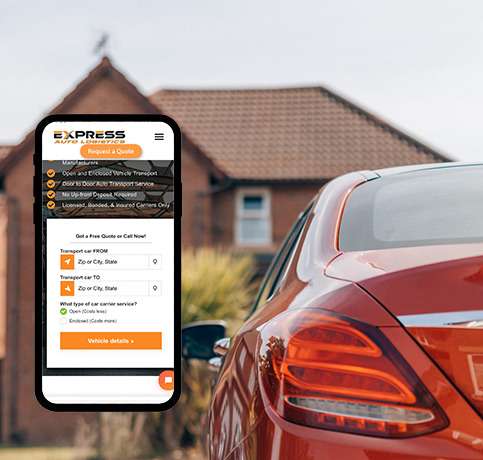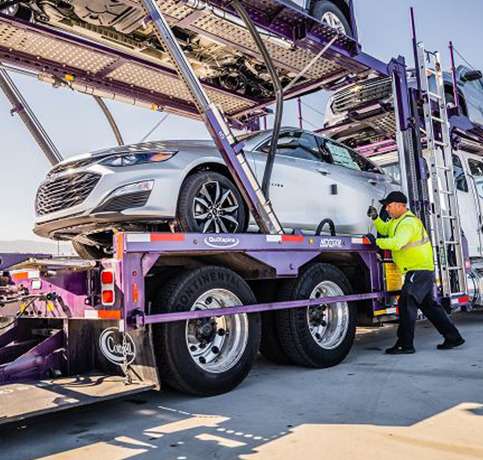 One of our vetted and trustworthy drivers will pick up your vehicle at the time and date you specify, whether it is in your driveway or a public meeting place. Our driver will perform a thorough inspection of your vehicle before loading and a copy of Bill of Lading will be provided to you. Your vehicle is fully insured during transit at no extra cost to you and the inspection is done to ensure your vehicle arrives in the same condition as it was picked up. 
Throughout the transport of your vehicle, you can get in touch with your car carrier to inquire about arrival schedules and any question or request you may have. Our vetted drivers undergo extensive safety and operational training to guarantee the safety of your vehicle at all times! The car carrier will arrive as near to you as reasonably safe and lawful. Upon arrival, you can pay the trucker any outstanding balance for your vehicle shipping. A final inspection will be performed by the driver and you or a representative you designate will receive your vehicle.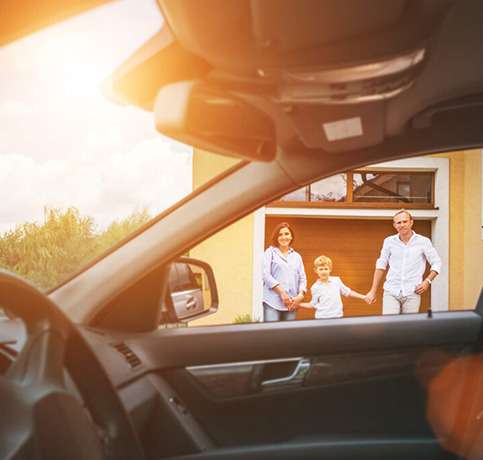 What determines Kansas car transport cost?
"How much does car shipping cost?" is an often asked question when it comes to auto transport. Whether you're moving, temporarily relocating, or buying a vehicle from out-of-state. It is important to know what factors go into car shipping prices. Expect to pay less if you are flexible about when your vehicle will be picked up and delivered. If you need your vehicle picked up by a certain date or need expedited delivery, expect your rate to be higher. Distance is the biggest factor when calculating a car shipping quote. Longer distances equate to a higher auto transport rate, but lower cost per mile. While shorter distances will cost you less, the cost per mile is more.
Anton is fantastic. I have used other carriers in the past for shipping my vehicles. None of the compare to Express Auto Logic! If you need a car transported, give them one chance. You will not be disappointed! Thanks for the great service!
Good service. On time. Best rates. Excellent communication with dispatcher and driver. Recommended.
Amazing experience with this company. They picked up my vehicle in Virginia and transported it to Florida. I checked other transporters in the area and the cost of the transport was much better than the others. They were very courteous and fast. Any question I had during the process was answered very quickly. Awesome communication. Would definitely recommend this company
Express Auto Logistics is one of the best companies to work with. Fast, great service, and reasonable prices! I've used them twice now and both time have had zero problems.
This company is extremely professional. I needed a car shipped from Georgia to Philadelphia that I purchased on copart. The process was easy and speedy. I would highly recommend their services.
Most popular destinations to & from Kansas 
| FROM | TO | Transit Time |
| --- | --- | --- |
| Kansas | Missouri | 1-2 Days |
| Kansas | Colorado | 1-2 Days |
| Kansas | Texas | 2-3 Days |
| Kansas | North Carolina | 3-4 Days |
| Kansas | Florida | 3-4 Days |
| New York | Kansas | 3-5 Days |
| Arizona | Kansas | 3-4 Days |
| California | Kansas | 6-8 Days |
| California | Kansas | 3-4 Days |
| Washington | Kansas | 4-5 Days |
Get a quote to ship your
Car
SUV
Truck
Van
Motorcycle
Classic
Exotic
RV
Antique
Auto transport frequently asked questions
The length of time it takes to transport a vehicle will depend on a few factors, including the distance it needs to be shipped, the shipping method, and the availability of carriers. On average, it can take anywhere from a few days to a week or more to ship a vehicle across the country. Shipping a vehicle a shorter distance may take only a few days.
Yes, we request your precise pickup and delivery destinations; if the carrier can arrive at those locations without any trouble, they will. However, if the addresses you provide us with are not easily accessible for a multi-car carrier, you will need to coordinate a meeting place with the driver at a nearby spot where the carrier can enter and exit safely.
Yes, vehicles are covered by insurance up to $250,000 for open carriers and up to $1,000,000 for enclosed carriers. Your car is completely covered by insurance in case any damage occurs during transport.
Yes and No, during pick-up and delivery you or someone designated by you must be present to inspect the condition of the vehicle and sign the bill of lading.
We advise scheduling your vehicle transfer a week in advance so that we can better accommodate your pickup and delivery needs. If you require expedited auto transport, we offer those services.
No, all costs of transporting your vehicle are included in our quote.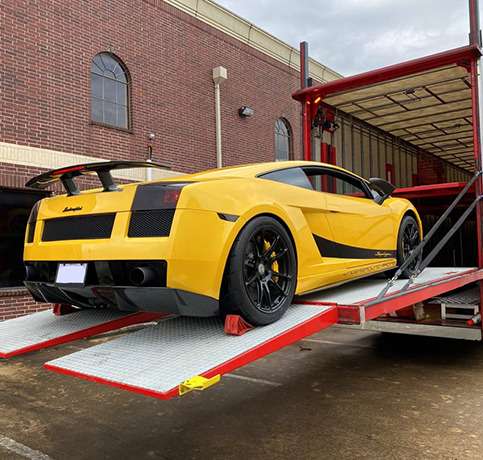 Luxury & Exotic Car Shipping Services in Kansas
If you're in the market for transporting your luxury or exotic car, you'll want to ensure that it's shipped safely and securely. One of the best ways to do this is by choosing an enclosed carrier for your vehicle transport needs. But what exactly is an enclosed carrier, and how does it differ from other types of car transport options? An enclosed carrier is a specialized vehicle designed specifically for the transportation of high-value cars. Unlike open carriers, which are typically used to transport multiple vehicles at once and are exposed to the elements, enclosed carriers are completely enclosed and offer protection from the weather and other potential hazards. There are several key benefits to using an enclosed carrier for the transport of your luxury or exotic car:


Increased protection: As mentioned, an enclosed carrier provides complete protection for your vehicle during transport. This means that your car will be shielded from wind, rain, snow, and other weather-related elements, as well as road debris and other hazards.


Enhanced security: Enclosed carriers also offer increased security for your vehicle, as they are typically equipped with alarms and other security measures to deter potential theft or vandalism.


Reduced risk of damage: With an enclosed carrier, you can have peace of mind knowing that your car is being transported in a secure and controlled environment. This reduces the risk of damage caused by external factors, such as rough roads or sudden stops.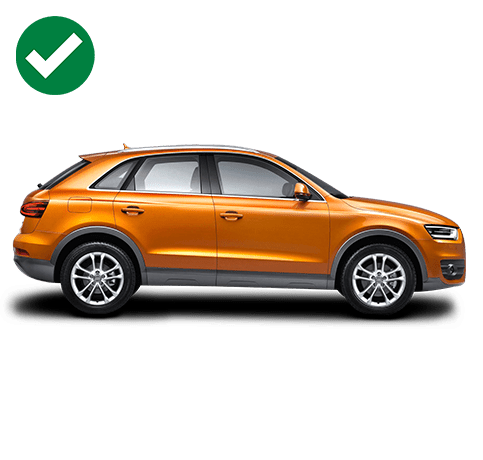 Steps to prepare your vehicle for auto transport
There are a few steps you can take to prepare your car for auto transport:


Remove all personal items from the car, including any aftermarket electronics or accessories.


Make sure the car is clean, both inside and out. This will make it easier for the transport company to inspect the vehicle for any preexisting damage.


Check the car's fluid levels and inflate the tires to the proper pressure.


Make sure the car is in good working order and there are no fluid leaks.


Disable the car's alarm system, if applicable.


Leave about a quarter tank of gas in the car.


Take photos of the car from all angles to document its condition before transport.


Make sure you have all the necessary documents, including the title and registration for the car.


If the car is inoperable, make sure to let the transport company know in advance so they can make the necessary arrangements.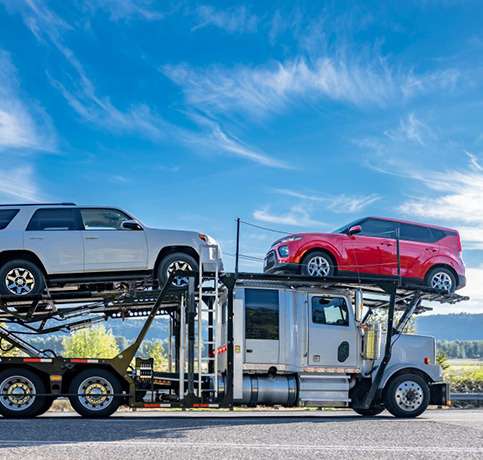 Kansas car transport to a different state
Using a car shipping company to transport your car to a different state can offer a number of benefits. Here are some reasons why you might consider using a car transport company:
Convenience: Driving a car long distances can be tiring and time-consuming. By using a car transport company, you can have your car transported while you fly or take another form of transportation. This can save you time and energy, and allow you to arrive at your destination refreshed.
Cost-effectiveness: Depending on the distance of the transport and the cost of fuel, it may be more cost-effective to use a car transport company rather than driving the car yourself.
Safety: Professional car transport companies have the experience and equipment to handle the transport of your car safely. They use sturdy, high-quality carriers or trailers to transport vehicles, and ensure that all vehicles are properly secured to prevent them from moving or shifting during transport.
Insurance coverage: Your vehicle is fully insured bumper to bumper during transport. This can provide peace of mind and financial protection in case of any damage or accidents during transport.
Tips for moving & transporting to Kansas
Cost of living: Kansas has a relatively low cost of living compared to other parts of the country, making it an affordable place to live.

Job opportunities: Kansas has a diverse economy with strong sectors such as agriculture, aerospace, and manufacturing, providing job opportunities in a variety of fields.

Great outdoors: Kansas offers plenty of opportunities for outdoor activities, such as hiking, fishing, hunting, and camping.

Great education: Kansas is home to several well-respected colleges and universities, including Kansas State University and the University of Kansas, making it a great place for students and families.

Friendly people: Kansas residents are known for being friendly and welcoming, making it easy to make new friends and feel at home.

Great transportation: Kansas has a well-maintained transportation infrastructure, including highways, airports, and railroads, making it easy to get around the state and travel to other parts of the country.

Cultural and Historical sites: Kansas has a rich history and culture, with many museums, monuments, and landmarks that highlight the state's unique past and heritage.

Sports: Kansas is home to several professional sports teams, including the Kansas City Chiefs and the Kansas City Royals, providing entertainment and excitement for sports fans.
Kansas car registration steps
To register a new car in Kansas, you will need to follow these steps:
Gather required documents: proof of ownership, proof of insurance, and a valid ID.
Visit your local Kansas Division of Vehicles office.
Complete the Application for Kansas Title and Registration form.
Pay the applicable fees, including taxes, registration fees, and any other applicable charges.
The Kansas Division of Vehicles will issue you a license plate and registration sticker, which you must place on your vehicle.
Note: Kansas also requires annual vehicle inspections, so you may be required to get an inspection before registering your vehicle. Additionally, if you are a new resident, you will have 90 days to register your vehicle from the date you established residency.
Kansas most popular cities for auto transport
Car Shipping Services in Wichita
Zip codes: 67202, 67203, 67209, 67211, 67212, 67213, 67214, 67215, 67218, 67228, 67235, 67260.

Auto Transport Services in Overland Park
Zip codes: 66083, 66085, 66207, 66212, 66213, 66221, 66223.

Car Hauling Services in Kansas City
Zip codes: 66101, 66102, 66103, 66104, 66105, 66106, 66109, 66112, 66115, 66118, 66217.

Auto Shipping Services in Olathe
Car Transport Services in Topeka
Zip codes: 66409, 66546, 66603, 66604, 66605, 66606, 66607, 66608, 66609, 66610, 66611, 66612, 66614, 66615, 66616, 66618, 66619, 66621, 66622.

Car Towing Services in Lawrence
Zip codes: 66044, 66045, 66046, 66047, 66049.

Auto Transport Services in Shawnee
Car Transport Services in Lenexa
Zip codes: 66062, 66210, 66214, 66215, 66216, 66219, 66220, 66227.

Auto Shipping Services in Manhattan
Zip codes: 66502, 66503, 66506.

Car Shipping Services in Salina
Auto Transport to & from Kansas across the states
Useful websites for Kansas 
ks.gov – The official website of the state of Kansas, providing information on government services, resources, and agencies.
kansas.com – News and information website for the state of Kansas, featuring local and national news, sports, and weather.
ksoutdoors.com – Website for the Kansas Department of Wildlife, Parks, and Tourism, providing information on hunting, fishing, and recreational opportunities.
ksdot.org – Website for the Kansas Department of Transportation, providing information on road conditions, construction projects, and more.
kansascity.com – News and information website for the Kansas City metropolitan area, featuring local and national news, sports, and weather.
kansasedu.com – Website for the Kansas Board of Regents, providing information on higher education in the state, including colleges and universities.
ksagriculture.org – Website for the Kansas Department of Agriculture, providing information on farming, food safety, and agricultural resources.
kdheks.gov – Website for the Kansas Department of Health and Environment, providing information on public health, environmental protection, and emergency management.
kansascommerce.com – Website for the Kansas Department of Commerce, providing information on economic development, business resources, and workforce development.
kslegislature.org – Website for the Kansas State Legislature, providing information on laws, bills, and the legislative process in Kansas.
Let Us Safely Transport Your Vehicle